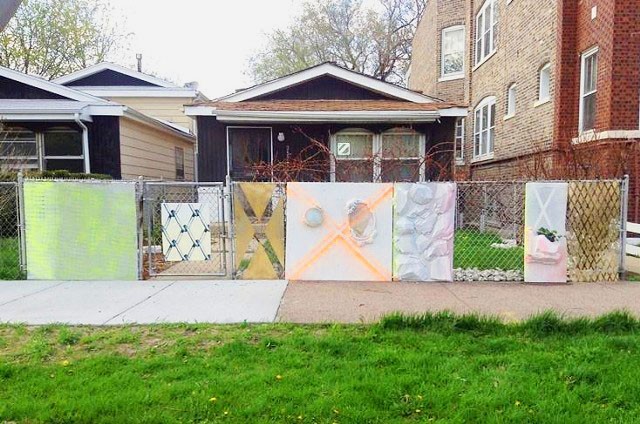 an elegant use of foliage and grace
Styrofoam, plexiglass, clock, light fixture, spray paint, plastic, mirror, spray foam and digital ink jet print
48" x 240"
2014
Installation at The Franklin May 2014 for the exhibition SCAPE
Organized by Sabina Ott
May 3 - 31 2014
Alison Ruttan, Alex Tam and Assaf Evron, Joe Jeffers and Sabina Ott, intersect into The Franklin's physical, political and psychological landscape, reconfiguring the environment. Each artist focuses on a different aspect of this charged space, disrupting, jamming and altering its function.
Sabina Ott's enhancement of the The Franklin front yard fence "an elegant use of foliage and grace.." 2014, draws upon her penchant for painterly sculptures and home furnishings. Styrofoam, plexiglass, clock, light fixture, spray paint and spray foam combine to form an alternate iteration of a traditional cyclone fence, altering the viewers expectations of the house behind.
This piece was in response to the overwhelming presence of cyclone fences in this neighborhood meant to keep out intruders. I repurposed the fence outside The Franklin, an artist run exhibition space, to be welcoming and to bring elements from the inside of a house to the outside. Alongside a mirror and a clock are faux finishes and repeating motifs of the diamond shapes found within a chain link fence.